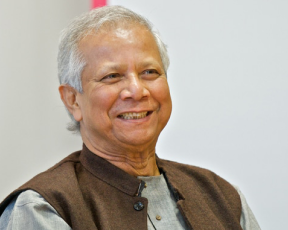 Rectangle 20 How the world's most successful social entrepreneurs tackle social problems
In the past, many entrepreneurs chose to accumulate wealth in the private sector and become philanthropists later in life. Globally, a new business model has emerged that meshes businesses with governmental and social organisations. Nonprofits and businesses can team up to form a hybrid business model, led by a new generation of social entrepreneurs. These leaders successfully tackle London School of Social Enterprise and Sustainable Economics social issues while generating profit for shareholders.
These 10 inspiring social entrepreneurs use business to both generate profit and solve some of the world's most pressing social problems. Innovation takes many forms, and it's wonderful when insightful ideas can work to address global social issues. Social entrepreneurs take the road less travelled to build flourishing hybrid businesses
1. Bill Drayton
Bill Drayton is recognised as one of the pioneering social entrepreneurs of our time. Drayton founded Ashoka: Innovators for the Public in 1981, which takes a multifaceted approach to finding and supporting social entrepreneurs globally. London School of Social Enterprise and Sustainable Economics Drayton also serves as chair of the board for Get America Working! and Youth Venture.
2. Rachel Brathen
"What if social media could become a social mission?" asks New York Times best-selling author, Rachel Brathen. Through her Instagram account "Yoga Girl", which reaches 2.1million followers worldwide, she shares her daily dose of yoga poses and tips, where Brathen hopes to connect instructors with people in the online community who need healing. Her online channel oneoeight.tv was an "online studio" that offered health, yoga, and meditation services.
3. Shiza Shahid
As co-founder and global ambassador of the Malala Fund, Shiza Shahid, manages business operations for Malala Yousafzai, the teenager who became the youngest winner of the Nobel Peace Prize in 2014. Like Malala, Shahid was born in Pakistan. She initially reached out to Malala in 2009 and worked to organise a camp for her and other Pakistani girls. In 2012, Shiza flew to Malala's bedside after she was targeted and shot by the Taliban for promoting education for girls. Inspired by Malala's desire to continue campaigning for gender equality and education, Shahid decided to help Malala strategies her campaign. Shahid created the Malala Fund, to help empower women and girls by advocating and spreading access to education.
4. Blake Mycoskie
After a trip to Argentina in 2006, Mycoskie became the chief shoe giver and founder of TOMS Shoes, investing $300,000 of his own money in the company. TOMS pledged to donate one pair of shoes for every one sold, and now expands the "One-For-One" campaign to support water, sight, birth, and anti-bullying initiatives. Through the TOMS brand, Mycoskie has raised awareness about issues related to global poverty and health. As of 2019, the organisation had provided people in developing countries with 95 million pairs of shoes and more than 722,000 weeks of safe water. Moreover, the TOMS Eyewear program has helped to restore sight in more than 780,000 individuals by giving recipients prescriptive glasses or surgery.
5. Scott Harrison
Scott Harrison left a life of luxury in New York City and headed for the shores of West Africa to volunteer at Mercy Ships, the world's largest non-governmental hospital ship. The trip was a watershed moment, and in 2006 Harrison founded charity: water, a nonprofit that provides safe and potable drinking water in 28 countries around the world. As of 2020, the organisation had fulfilled 51,438 projects in developing countries. In 2018 alone, charity: water raised $69.3 million.
6. Muhammad Yunus
Nobel prize winner, Professor Muhammad Yunus is renowned for the popularisation of microfinance and microcredit, which serve as the cornerstones of Grameen Bank. It was founded in 1983 and is based on the principles of trust and solidarity, to empower villagers with the necessary funding to pull themselves out of poverty. According to the Grameen Bank, as of February 2020, 97% of its 9.31 million borrowers are women, who pay their loans back at a rate of 98%—a recovery rate higher than any traditional banking system. This renowned professor has received international awards like the U.S. Presidential Medal of Freedom in 2009, and the Congressional Gold Medal in 2010.
7. Jeffrey Hollender
Jeffrey Hollender is widely known as the former CEO and Co-Founder of Seventh Generation, a popular business for natural products. He is now a leading consultant, speaker, and activist for corporate social responsibility. He has written seven books including "How to Make the World a Better Place." Hollender is also co-founder and CEO of Hollender Sustainable Brands, which sells sustainable products for sexual and personal health—such as condoms, tampons, lubricants, pads, and the like. Hollender is an adjunct professor at New York University and co-founder and board chair of the American Sustainable Business Council; and a board member of various other organisations, including Greenpeace USA, Health Care Without Harm, and workers' rights organisationVerité.
8. Xavier Helgesen, Christopher "Kreece" Fuchs and Jeff Kurtzman
These three co-founders of Better World Books—a B-Corp online bookstore that funds global literacy—all deserve recognition as successful social entrepreneurs. The founders met at Notre Dame University, where they tutored the football team and started collecting unwanted books to sell on the internet. Helgesen is CEO and co-founder of Off Grid Electric, which provides renewable energy to homes in the "off-grid world." Kurtzman previously held the CEO position at Aid Through Trade, London School of Social Enterprise and Sustainable Economics a company that distributes handmade accessories from Nepal around the U.S., where he was responsible for a 110% growth in sales. He also co-founded the nonprofit Operation Incubation, which delivers low-cost, low-maintenance incubators to the developing world.
9. Mark Koska
Mark Koska re-designed medical tools, introducing a non-reusable, inexpensive syringe to be used in under-funded clinics. This innovation safeguards against the transmission of blood-borne diseases. Koska founded SafePoint Trust in 2006, which delivered 4 billion safe injections in 40 countries via his "auto-disable" syringes. The Schwab Foundation Social Entrepreneurs of the Year in 2015 cited Koska for his pioneering solution to a world health issue. The World Health Organization (WHO) announced a global policy on safe injections in February of 2015.
10. Sanjit "Bunker" Roy
Sanjit "Bunker" Roy had a privileged upbringing in India, in contrast to many Indians who survive on less than $1 per day. When Roy visited some of his country's rural villages, he had a life-altering experience and decided to find a way to improve the social-economic inequities in his country. He founded Barefoot College in 1972, a solar-powered college for the poor. Roy describes Barefoot College as "the only college where the teacher is the learner and the learner is the teacher."
Certain qualities define the entrepreneur as a subset of business owner. Theorists refer to entrepreneurs alternately as individuals who initiate change and individuals who exploit in-progress change by identifying and seizing opportunities to alter the status quo, despite the risks of early adoption.
Social entrepreneurs are a type of business entrepreneur rather than a separate category. Whereas typical entrepreneurs improve commercial markets, social entrepreneurs improve social conditions. Several other factors further differentiate social entrepreneurs.
Below are some distinctive differences between social entrepreneurs and business entrepreneurs:
Emphasis on Team Vs. Individual
The "Stanford Social Innovation Review" notes that venture capitalists invest in private business on the basis of a new company's leadership team and the organisation that supports it. Philanthropists – individuals who raise and donate money for charitable causes – rather than venture capitalists, are often the primary investors in social entrepreneurs' projects. They're more likely to gauge the viability of a project based on the individual at the helm.
This review challenges the focus on the individual in light of research showing that successful change depends on a range of competencies – competencies that require strong leadership which can rarely be undertaken by a sole individual.
Perceptions of Value
For the business entrepreneur, value lies in the profit the entrepreneur and investors expect to reap as the product establishes itself in a market that can afford to purchase it. The business entrepreneur is accountable to shareholders and other investors for generating these profits. To the social entrepreneur, there's also value in profits, as profits are necessary to support the cause. That said, the value for the social entrepreneur lies in the social benefit to a community or transformation of a community that lacks the resources to fulfil its own needs.
Measure of Profitability
Business entrepreneurs' ventures are always designed to turn profits that benefit stakeholders, such as shareholders or private investors. Social entrepreneurs may also engage in for-profit activities. However, they often structure their organizations as non-profits, or they donate their profits to the causes they support.
NIKA Water, for example, is a for-profit company that sells bottled water. According to "Entrepreneur," 100 percent of the company's profits support clean-water projects in Uganda, Kenya, Sri Lanka and Nicaragua.
Approach to Wealth Creation
Although the business entrepreneur and the social entrepreneur are similarly motivated to change the status quo, their missions differ significantly. The business entrepreneur is driven to innovate within a commercial market, to the ultimate benefit of consumers. If successful, the innovation creates wealth. The venture's success is gauged by how much wealth it creates. To the social entrepreneur, wealth creation is necessary, but not for its own sake. Rather, wealth is simply a tool the entrepreneur uses to effect social change. The degree to which minds are changed, suffering is alleviated or injustice is reversed represents the organisation success. London School of Social Enterprise and Sustainable Economics – LSSE