How Germany is Countering Coronavirus with Open Social Innovation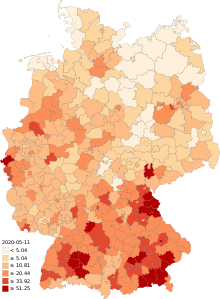 The inability of societal institutions to cope with a crisis warrants experimenting with a social innovation approach that rapidly brings together government, civil society, and the private sector.
When civilian tech companies and organizations recently proposed an online hackathon to find solutions to the COVID-19 crisis, German politicians seized the opportunity and, within days, launched Germany's first government-hosted crisis hackathon: #WeVsVirus, or #WirVsVirus in German. The effort not only produced viable and useful technical solutions, but also empowered thousands of participants to take action, learn, and create alongside others.
Hackathons are a novel organizing practice that have proven their worth in many different fields. They provide a dynamic, flexible setting, based largely on self-organization, in which creativity can flourish. Participants typically meet up in a physical space, form teams, and focus on solving a specific technical problem for a set amount of time.
Hackathons are also a tool for driving open social innovation. In a governmental context, this means creating solutions to social challenges by opening up development to people and organizations outside government. Local governments like the City of Toronto, NASA, NSF, and the United Nations have all used hackathons to address social problems.
What made the #WeVsVirus hackathon unique was its unprecedented urgency and scale. Though guidelines usually recommend three months preparation time, #WeVsVirus came together in just four days, and organizers were overwhelmed by public interest in the event: A total of 42,968 people signed up and 26,581 participated, making it the world's largest hackathon to date.
Organizers started by crowdsourcing problem domains and existing initiatives, and received 1,990 problem statements from civil society and government ministries. Screening of these statements lead to 809 problems, which they categorized into 42 challenges, including e-learning, neighborhood help, crisis communication, and digitalization of public services. Participants formed teams and chose specific challenges to address (more on this below). From there, they had 48 hours to develop and submit their solutions via the hackathon platform Devpost, and to create a two-minute video pitch uploaded to YouTube.
Over the 48 hours, teams generated a total of 1,494 project ideas. Together with industry experts and government officials, the hackathon organizers preselected the best 197 projects. Then the hackathon's jury singled out the winning 20 projects, spotlighting them during an online ceremony held a week after the hackathon. Meanwhile, organizers and the German government launched a support program to help develop and integrate the ideas.
The first tangible result came on April 10, when Germany's federal employment agency added one of the winning technologies—UDO, an online tool that helps employers apply for short-term labor grants—to its website. These grants enable employers to reduce employees' working hours while receiving funding to compensate them for lost earnings. Though UDO is an add-on to an existing service, its development timeline was still impressively short: about two weeks from conception to implementation.
Beyond mobilizing civil society to come up with potential solutions to the crisis, the hackathon helped many participants overcome feelings of isolation and powerlessness by connecting them with 20,000 other like-minded, purpose-driven people.
One participant shared that what stood out for her was "the euphoria, the positive energy and persistence with which people worked, developed ideas, and created innovations." Sandy Jahn, a co-organizer who facilitated the feedback survey, pointed out other spillover benefits: "In addition to contributing to the greater good, participants enjoyed meeting new people and seeing participation as a learning process.
What is more, 56 percent of the respondents say it strengthened the trust into the German government, 35 percent report no change, 8 percent say it weakened their trust."
In the closing video call of the hackathon, German State Minister for Digitization at the Federal Chancellery Dorothee Bär said, "The number and depth of solutions is impressive. We should think about using the hackathon for other problems as well." The success of #WeVsVirus makes it a valuable case study for governments and others interested in using hackathons to spark social innovation. Here are seven lessons decision makers can learn from.