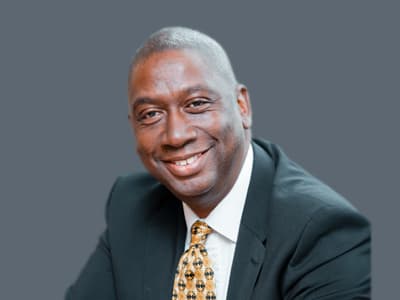 Dr Carlton Brown is an influential, Thought Leader and results-driven, Consultant, coach, mentor, Senior Executive with entrepreneurial prowess, a wealth of business consultancy expertise, and a proven track record leading, developing and executing strategic change, sales, marketing and channel strategies to improve consumer engagement, revenue growth and profits in challenging commercial environments. He's proactive and persuasive communicator, with excellent presentation skills and the ability to develop sustainable relationships across all levels, roles and cultures, as well as manage, develop and coach large cross-functional teams.
Dr Carlton Guided, supported, advised and inspired teams as an executive director of the Association of Business Mentors. He Shared knowledge, raised standards and awareness; empowering mentors on how best to support leadership teams, also worked collaboratively to define, shape and deliver core values, mission-based leadership and strategic governance.
He Partnered with Rathbone to unlocked business potential and engaged with clients to add benefit and shareholder value, he Collaborated with entrepreneurs, start-ups, SMEs and companies on business strategies and value-based solutions, and Successfully connected customers with client brands via appropriate placement; optimising visibility &awareness.
He's an Associate Lecturer at Greenwich School of Management (University of Plymouth) where he Championed learning and development; lecturing students on business strategy, marketing and management. Underpinned lecturing style with a hands-on approach & up to date knowledge of market/competitor developments. He Created, developed, led and executed sales, marketing and commercial strategies as a Managing Director of Aspire Consultancy, he advised on how to formulate robust plans, business cases, bids and insight documents to achieve core objectives.
Dr Carlton worked closely with leadership teams to continuously improve planning, processes, procedures and best practices and partnered with ELBP, NWES, ELBC, Grant Thornton(Growth Accelerator Coach), facilitation of Business workshops for SMEs,121 coaching & mentoring.
Managing Director, Sales and Marketing Director, Regional Director, he established and led Just Washroom Services from scratch to achieve a £1m turnover business as MD(2007-14), he Successfully built the business from the ground up; expertly balancing resources, budgets, KPIs and objectives, and promoted and drove a customer-focused culture to ensure exceptional service and rapidly grow the client base.
He achieved his Postgraduate diploma in digital marketing, Digital marketing institute MBA at Sunderland University (Understanding the dynamics of the marketing mix on consumer behaviour), Postgraduate Diploma in Management, Chartered Institute of Management. He's an NLP Practitioner and Professional Diploma in Digital Marketing Member of the British Management Association and Chartered Management Institute.